Live and Local Strategic Initiative
About Live and Local
The Live and Local Strategic Initiative was designed to support local councils and their communities in organising and delivering live music micro-festival events. The program was funded by Create NSW on behalf of the NSW State Government and managed in partnership by the Live Music Office.
The Initiative promotes the Live and Local Event Model, whereby local businesses, both traditional and non-traditional, host local musicians over the course of an afternoon, supported by local council through marketing and promotional support, as well as better policy and regulation development to implement long-term strategies that support the growth of the local live music industry.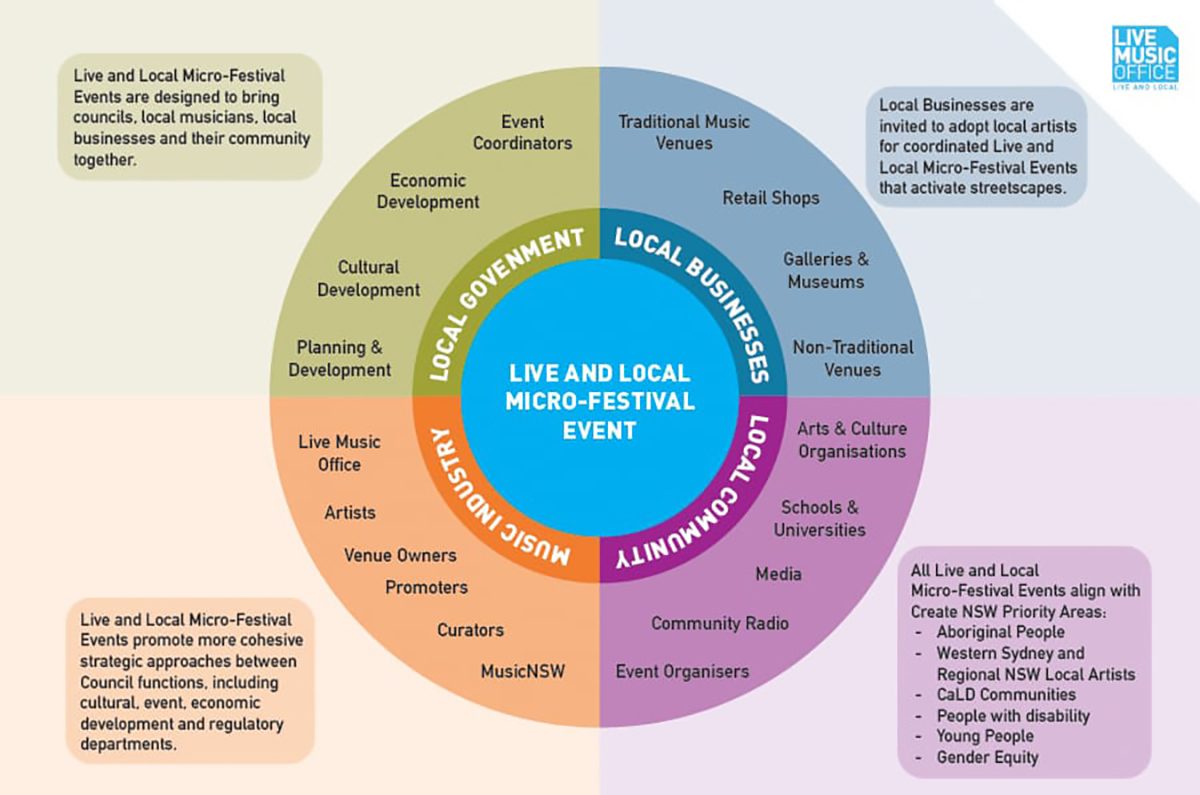 The event model was developed from the City of Sydney: Live Music and Performance Taskforce which identified the music community's dissatisfaction with how publicly-funded live music events took place.
Venues felt they provided regular jobs for musicians and paid rates to Council. However, rather than benefitting local venues, Council budgets were directed to promoting imported artists in temporary venues.
The City of Sydney provided the Live Music Office with a matched-funding grant to carry out two Live and Local pilot events in 2014, Surry Hills Ignite with Sydney Fringe Festival and Kings Cross Ignite with APRA AMCOS. The strategy and method of these events is now being shared with suburban and regional centres across NSW through the delivery of The Initiative.
Delivery of The Initiative was initially developed to target Western Sydney under the NSW Government's $7.5 million commitment to boost Western Sydney arts and cultural opportunities over four years.
The development of the Western Sydney Live and Local Strategic Initiative was informed by:
Consultations undertaken with Western Sydney stakeholders, including local government arts and cultural development officers and artists
Priorities outlined by Create NSW, including increasing opportunities for artists and participation of audiences in Western Sydney, supporting live music and investigating new partnerships with local government
An analysis of funding results from Arts and Cultural Development Program (ACDP) showing music applications are underrepresented in the ACDP in comparison to other artforms.
The Initiative was then expanded to deliver two main phases of funding – Western Sydney Round One and Western Sydney Round Two/Regional NSW.
Artists
A total of 1359 musicians participated in Live and Local, of which 782 (57%) individual male and 577 (43%) individual female musicians participated in the program.
A total of 583 acts were programmed, comprised of 244 male acts, 184 female acts and 155 mixed-gender acts. A total of 339 all-female and mixed-gender acts were programmed, representing 58% of the total acts programmed.1
A total of 852 performances were programmed, with 348 male performances, 283 female performances and 231 mixed-gender performances. A total of 514 all-female or mixed-gender performances were programmed, representing 60% of the total number of performances.2
The program presented a range of genres but was focused mostly on acoustic performances, or performances with small PA requirements to suit small to medium venues.
Create NSW Priority Areas were represented in every program, with a total of 236 Culturally and Linguistically Diverse artists, 64 Aboriginal and Torres Strait Islander artists, 12 people with disabilities and 450 youth artists. The program presented a broad range of ages, from 9 years to 71 years.
---
Venues
A total of 262 venues participated in the program. 35 different types of businesses were activated across hospitality, retail, hotel and entertainment sectors, listed as follows:
Cafes
Restaurants
Pubs
Public Domain
Small Bars
Clothing Stores
Galleries
Homewares and Gift Stores           
Book stores    
Registered Clubs                
Hotels   
Delis      
Arcade  
Co-working creative spaces
Historic Houses
Cinemas                
Shoe Stores
Breweries
Community Centres        
Tattoo Parlours
Music Store         
Wineries               
BnB        
Country Halls     
Hairdresser/Barbershops
Bakeries
Shisha Shop
Bowling Alley     
Theatres                
Museums              
Florists 
Furniture Stores                 
Showground      
Cycleries               
Lawnmower and Garden Business
Audiences
Total audience attendance is estimated over 53,000 across the 18 LGAs in NSW. Based on findings by the Blue Mountains City Council economic development officer, a sample size of 2080 visitors was estimated to have generated around $242,080 into the Blue Mountain's local economy from a single Live and Local event.
Special thanks to the project teams from Parramatta City Council, Fairfield City Council, Camden Council, Wollondilly Shire Council, Blacktown City Council, Campbelltown City Council, Blue Mountains City Council, Hawkesbury City Council, Liverpool City Council, Cumberland Council, Tweed Shire Council, Kempsey Shire Council, Newcastle City Council, Armidale Regional Council, Orange City Council, Mid-Western Regional Council and Wagga Wagga City Council for their tireless efforts in delivering their Live and Local programs, and their dedication to supporting the development of grassroots live music in their local communities.